Appearances
Edit
Warrant Officer Cain

Unlock
Complete Scotland The Brave on Normal
Gallery
Warrant Officer Cain is in charge of the keys to the castle cellars-he's a very popular man.
Gesture
Puts hand on chest while saying "Okay, let's roll"
Speed
Stamina
Shock Proof
Fire Proof
5/8
5/8
5/8
5/8
Warrant Officer Cain is an officer of Victorian Crow's army of Khallos's men in TimeSplitters Future Perfect. He is first encountered (Named "Reinhard") in Scotland The Brave, talking with Crow. After Cortez barges in on the meeting, he and two other Warrant Officers attempt to kill Cortez after Crow escapes, but are all killed. More Warrant Officers are sporadically encountered in You Take The High Road, as slightly stronger enemies.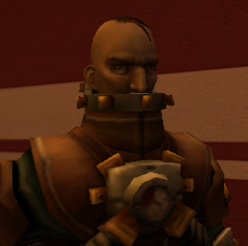 Ad blocker interference detected!
Wikia is a free-to-use site that makes money from advertising. We have a modified experience for viewers using ad blockers

Wikia is not accessible if you've made further modifications. Remove the custom ad blocker rule(s) and the page will load as expected.