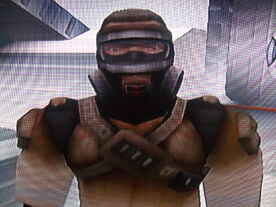 Trooper Brown is a member of the Desert Force featuring in TimeSplitters 2.
Appearances
Edit
Trooper Brown makes a solitary appearance in TimeSplitters 2, and like several Military characters, does not have a role outside of being an available bot for Arcade Custom.
He shares his voice clips with Trooper White and Gasmask Special. Strangely, his 'fire' scream is also used as one of his regular 'pain' sounds.
Ad blocker interference detected!
Wikia is a free-to-use site that makes money from advertising. We have a modified experience for viewers using ad blockers

Wikia is not accessible if you've made further modifications. Remove the custom ad blocker rule(s) and the page will load as expected.