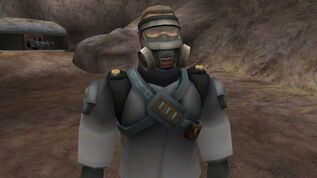 Trooper Black is one of several soldiers with gasmasks and is a member of the Special Forces in TimeSplitters 2.
Appearances
Edit
In the Story level Siberia on Normal or Hard difficulty settings, the level will eventually be flooded with a mutant outbreak due to containment failure of the holding cells. As such, Special Forces are deployed to kill all the mutants and unidentified personnel. The Special Forces mentioned are commonly mistaken as Trooper Black, but are actually a non-playable character referred to as the Gasmask Special. They appear similar, but have darker uniforms, orange markings, and while Trooper Black uses Trooper Green's voice clips, the Gasmask Special uses the same voice clips as Trooper White and Trooper Brown.
Outside of Story mode, Trooper Black makes small appearances in the Arcade League, Challenge mode and a bot set.
Ad blocker interference detected!
Wikia is a free-to-use site that makes money from advertising. We have a modified experience for viewers using ad blockers

Wikia is not accessible if you've made further modifications. Remove the custom ad blocker rule(s) and the page will load as expected.