Welcome and News
Welcome! This is a TimeSplitters Wiki based on all TimeSplitters knowledge. We are working on articles that any user can contribute to. You can help by expanding on current articles, or creating articles in red; why not visit the Wanted Pages list, Pages in need of improvement or the List of Pages that require expansion! For strategies and info on story mode, follow this link.
If you think anything could be improved, see the Feedback Page. you can also click the links on the sidebar to access various parts of the wiki such as the Chat page. And if you're not sure how to edit/create pages, see the Edit Guide.
Pictures - Please replace all low-quality photos and upload ones to pages that need them! For example, the Arcade League Pages!
Content - Do not be afraid to add relevant information to articles that need it!

Clean Up Spotlight: No Clean-Ups left in the moment.

P.L.A.C.E. - "Project Location Addition Content Essential" is a project about adding all the locations in the TimeSplitters Universe. The project kicked off with the clean-up of the Stanizlav Train Depot article, and will be featuring very detailed descriptions of the locations.
Wiki Skin
The TimeSplitters Wiki is designed to be viewed with the Monobook skin. It allows for bigger reading space, correct formatting and is customised with TimeSplitters imagery. To use this skin, click on your username at the top-right of the page, choose Preferences, scroll down and select MonoBook in the skin section.
Featured article
The Stanizlav Train Depot is a fairly large complex that appears in TimeSplitters Future Perfect in the level The Russian Connection, as well as the opening cutscene of The Khallos Express. Little is known of the depot's history. It can be assumed that it had previously been abandoned, judging from the many broken windows and dilapidated infrastructure. At some point in or prior to 1969, supervillain Khallos took over the depot to use as a base for...more...
Did you know...
...that Monkey is the official series mascot, but he did not appear in the first game?
...that there are three types of Time Crystals?
...that R-110 didn't survive The Machine Wars, but R-109 did?
...that the General was first heard in TimeSplitters 2?
...that the Time Crystals were found in an underground city called Kronia?
...that there were plans for a TimeSplitters game for the Game Boy Advance?
...that Captain Ash, Harry Tipper, Chinese Chef, Badass Cyborg, Duckman Drake, Gingerbread Man, Chastity Detroit and Robofish are the only characters to appear in every game?
...that Captain Ash and Harry Tipper are the only characters to appear in Story missions in every game?
...that Chinese Chef appeared after the original TimeSplitters, but Chinese Waiter did not?
...that TimeSplitters 2 is entitled "Time Splitter: Invaders of the History" in Japan?
...that the Siberia map in TimeSplitters Future Perfect is the other side of the dam to the Siberia mission seen in TimeSplitters 2?
...that TimeSplitters 2 originally had a Gothic tileset, but it was removed from the final game but still present on the disc? The Gothic tileset can be used with an Action Replay code for Xbox and Game Cube!
...that the idea for the Temporal Uplink being able to manipulate objects in TimeSplitters Future Perfect originated from the Free Radical Design game, Second Sight?
...that Sergeant Cortez's role in history lasted less than a day?
...that voices from characters in TimeSplitters 2 that didn't reappear, were used on new characters in TimeSplitters Future Perfect?
...that Cortez didn't appear in the first game?
...that TimeSplitters 2 has the greatest chronological span of all the games? From 1853 (Wild West) to 2401 (Space Station)!
...that there is a rare bug in Arcade League where your team name will be set to Trooper Grey, and your team colour will be set to gray?
...that Planet X has seen all out warfare from at least 6 alien species, always 3 invading forces at a time?
...that the TimeSplitters tried to end the human race from it's genesis by traveling back to around 8000BC in Siberia, around the Oblask Dam? The "organic" Reaper Splitter remains moved to the dam dated back 10,000 years!
...that Harry Tipper, Captain Ash and Chastity Detroit do not have to be unlocked in any of the games?
...that SentryBot is the only character model to have no shootable head in TimeSplitters 2?
...that Carrion Carcass does have a head? It's his neck!
...that Ninja Monkey is the smallest player in the TimeSplitters series?
...that the Deathmatch, Team Deathmatch, Capture The Bag and BagTag are the only modes in every game?
...that Last Stand, Escort and Knockout Game Modes were only playable in TimeSplitters 1?
...that Flame Tag, Leech and Regeneration Game Modes were only playable in TimeSplitters 2?
...that if a zombie who is lying on the ground gets set on fire, it will get up?
...that in the scene "Invitation Unnecessary", Amy Chen, passes unnoticed by the camera, but if Cortez does, the alarm will sound?
...that the first TimeSplitters game was released only for the PlayStation 2 and that it was one of it's launch titles?
...that it's not blood on the Feeder Zombie's shirt, but melon juice?
...that Robofish's bowl is not shootable in TimeSplitters 2? Only the fish gets you a headshot!
...that Cortez is voiced by Tom Clarke Hill, who also does voice overs for TV commercials? Leo Krupps' character select intro references this fact!
...that the original TimeSplitters had the most Arcade levels? 18, to be exact!
...that in Shaun of the Dead the characters play TimeSplitters 2 on Streets and Chicago?
...that Dinosaur doesn't hold his weapon when in arcade mode, it floats in front of him?
...that you can avoid taking damage when fighting the Deerhaunter when running back and hiding in the hole it comes out from and shooting it from there in the level Mansion Of Madness?
...that you can play the drums by shooting them in Disco?
...that you can press the 'Action' button and interact with the Turn Table and Microphone in Disco?
...that in TimeSplitters, the player is unable to be seen performing the punching animation when viewed by another player in Split-Screen?
...that in TimeSplitters: Future Perfect, on the map Siberia, the jeep can be blown over the Dam (essentially out of the map) by using a large explosion from various mines?
...that there is currently a petition going on in hope of getting an HD re-release of the TimeSplitters series and ultimately, a fourth installment in the franchise?
...that when playing single player Virus in the Chinese, you can hide behind one of the glass screens in either dining room and the infected cannot tag you?
...that you can hide under the propellers in Zeppelin?
...that cheese induced nightmares are very bad yet quite handy to have?
...that in TimeSplitters: Future Perfect, you cannot see fire through glass?
...that the music for Timesplitters 2's Ice Station is referred to as "fecked up" in the game's files?
...that in TimeSplitters, when Fishwife Mutant's head is knocked off, the head viewed is the head of Green Zombie?
...that TimeSplitters Future Perfect originally had ragdoll physics? Some remnants of it can still be seen in certain cases!
...that TimeSplitters Future Perfect's Mapmaker is glitchy as hell yet that isn't a bad thing?
Navigation
The TimeSplitters Games
The Eras & Timezones

Yellow
TimeSplitter War Phase 1

Grey

Orange

Green
Mutant Inhabitance

Brown
Zombie Inhabitance

Red
TimeSplitters' Natural Existence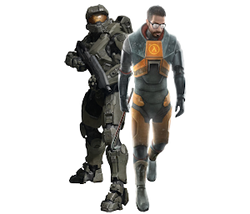 Shooter Games
Go to these sites for info or for help with your own wiki!
Battlefield • Borderlands • Brothers in Arms • Call of Duty • Call of Juarez • Counter-Strike • Counter-Strike Online / Counter-Strike Nexon: Zombies • CrossFire • Crysis • The Darkness • Destiny • Diabotical • Doom • Duke Nukem • Far Cry • Fortnite • Gears of War • GoldenEye • Half-Life • Halo • Hunt: Showdown • Killzone • Max Payne • Medal of Honor • Modern Combat • Overwatch • Paladins • PAYDAY • Pixel Gun • PLAYERUNKNOWN's Battlegrounds • POSTAL • Prey • Quake • Red Faction • Resistance • Respawnables • Rules of Survival • SAS: Zombie Assault • Shadow Warrior • Splatoon • Star Fox • Star Wars: Battlefront • TimeSplitters • Titanfall • Tom Clancy's Ghost Recon • Tom Clancy's Rainbow Six • Turok • Unreal • Warface • Wolfenstein
Want your community included? See how!
See all of our Shooter gaming wikis!