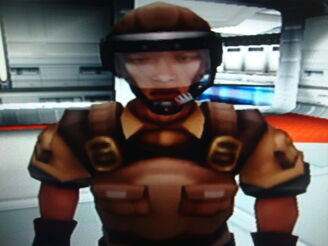 Sergeant Rock is a unit in the Desert Forces of TimeSplitters 2, and allegedly helps fellow soldiers in the Desert Force get dates.
Appearances
Edit
Sgt Rock

Unlock
Challenge > Cut-out Shoot-out > Pick Yer Piece with Silver
Gallery
Sgt. Rock is a bit of a matchmaker in the Desert Forces. He's always helping his colleagues to get the girl they want.
Accuracy
Agility
Stamina
12/20
12/20
12/20
Sgt Rock makes his sole appearance in TimeSplitters 2, and serves no role whatsoever aside from being a selectable bot in Arcade Custom.
Ad blocker interference detected!
Wikia is a free-to-use site that makes money from advertising. We have a modified experience for viewers using ad blockers

Wikia is not accessible if you've made further modifications. Remove the custom ad blocker rule(s) and the page will load as expected.