Scrapyard is a playable map in TimeSplitters 2. The majority of the level is a large open dump full of large, futuristic crates and what appear to be ruined sections of buildings. There is a small interior area along one side, with a passageway leading to a tower ideal for sniping into the central area.
In Assault a door located within the small interior section is unlocked, allowing access to a mass of tunnels that lead down beneath the level, reminiscent of TimeSplitters' Tomb level. This new area more than doubles the size of the level, but it is only accessible in Assault and the challenge []
Appearances
Edit
This map appears in several challenges as well as arcade leagues.
Playable Modes
Edit
All Arcade Custom modes are playable.
Interestingly, the menu shot shows the cooling towers that are only accessible during assault.
A crashed rocket which appears as outside of the playable arena has the letter "CCCP," which are the initials of the Soviet Union, in Russian.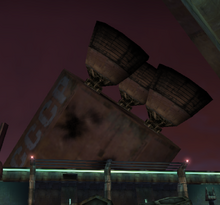 Ad blocker interference detected!
Wikia is a free-to-use site that makes money from advertising. We have a modified experience for viewers using ad blockers

Wikia is not accessible if you've made further modifications. Remove the custom ad blocker rule(s) and the page will load as expected.