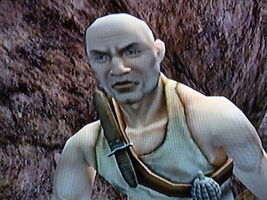 Schmidt is a Vietnam-themed soldier in the TimeSplitters series. His name suggests he's of German descent. He is bald, wears a white vest and green trousers.
Appearances
Edit
Schmidt

Unlock
Default
Gallery
He's big, he's bad, he is your dad.
Gesture
Says "That's a grrrrreat choice!"
Speed
Stamina
Shock Proof
Fire Proof
5/8
5/8
5/8
5/8
Schmidt appears as a generic soldier in TimeSplitters Future Perfect. He appears as a member of the Vietnam bot set and in the Rumble In The Jungle Arcade League match and the Sammy Hammy Namby Pamby challenge, both set in the aforementioned location.