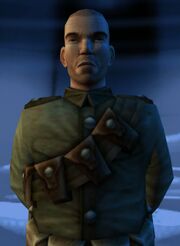 Sapper Johnson is one of the World War I soldiers in 1924 Urnsay. He wears the standard uniform and is also bald.
Appearances
Edit
Sapper Johnson

Unlock
Complete all Honorary League matches with Golds
Gallery
Johnson's always first getting dug-in in any kind of trench warfare situation.
Gesture
Salutes and says "Right away sir"
Speed
Stamina
Shock Proof
Fire Proof
5/8
5/8
5/8
5/8
Johnson appears as a generic soldier in TimeSplitters Future Perfect. He appears as a member of the Vietnam bot set, as well as the Baldies and Venice bot sets.
Johnson was among the men who bombed the island of Urnsay in 1924.
He, along with the rest of the Urnsay bombers and the Deep Diver, reuses voice clips from the Regular Force characters from TS2.
Ad blocker interference detected!
Wikia is a free-to-use site that makes money from advertising. We have a modified experience for viewers using ad blockers

Wikia is not accessible if you've made further modifications. Remove the custom ad blocker rule(s) and the page will load as expected.