Raygun Carbine

Ammo
20/180 plasma rounds
Fire Rate
bullets per sec/cartridge time
Primary : 7.25/s
Secondary : 10/s
Reload Time
00:00.47
Damage (per Single Shot)
Head/Body/Leg
Primary : 80%/15%/6%
Secondary : 80%/15%/6%
Type
Fully Automatic
Native Timezone
2020
Zoom
No
Primary Fire
Plasma rounds
Secondary Fire
higher rate of fire
Games
TS1
Appearance
Edit
The Raygun Carbine is a fully automatic, futuristic rifle that only appears in TimeSplitters and is almost completely the same as its pistol counterpart. The Raygun Carbine's primary fire is a fast-moving plasma bolt that is quite weak. The secondary fire is a plasma bolt that can be fired at a faster rate. Unlike many weapons, a headshot from it cannot kill in one shot. It appears as one of two weapons used by aliens (the other being the Raygun) in Planet X and Spaceways.
When "if best" is switched on, the Raygun Carbine ranks as the 11th best weapon on TS1, notably behind the Raygun, which could be considered to be the worse weapon of the two.
A similar weapon (the Mox Weapon) was scheduled to appear in TS2, but never appeared beyond beta versions of the game.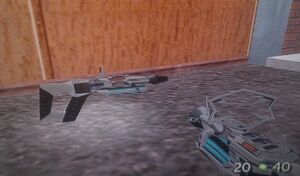 Ad blocker interference detected!
Wikia is a free-to-use site that makes money from advertising. We have a modified experience for viewers using ad blockers

Wikia is not accessible if you've made further modifications. Remove the custom ad blocker rule(s) and the page will load as expected.