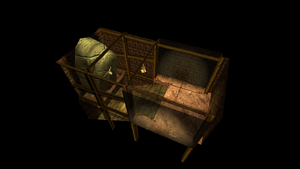 Ramps are an obstacle found within the series.
Mapmaker Ramps may be placed by the player. They are used to complete jumps for the Buggy/Zeep or Strudel and can be used to gain air. However, physics may be problematic compared to ramps in other kinds of games, as vehicles might not gain as much height as intended. When attempting to jump a Buggy/Zeep over a ramp, the trick to gain any air at all is to cut the wheels hard to one side just as you hit the ramp. Ramps are found in the 'Object Category'.
They are commonly found within race maps and especially Strudel Challenges.
Irregardless of trying to jump cars or cats, ramp items are best used to create one-way passages for bots and Story AI; bots and Story AI can walk over the ramps in one direction but not the other, and they know it.
Ad blocker interference detected!
Wikia is a free-to-use site that makes money from advertising. We have a modified experience for viewers using ad blockers

Wikia is not accessible if you've made further modifications. Remove the custom ad blocker rule(s) and the page will load as expected.