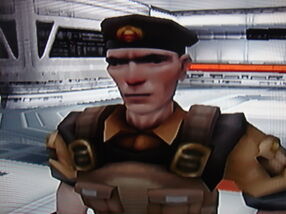 Private Sand is a member of the Russian military from TimeSplitters 2. He is part of the brown-clad Desert Force.
Appearances
Edit
Private Sand makes his sole appearance in TimeSplitters 2, in which his only presence is in a bot set.
He shares his name with Captain Sand, another member of the Desert Force and Pvt Sand's superior. This is one of the rare cases of characters sharing each others' names.
Ad blocker interference detected!
Wikia is a free-to-use site that makes money from advertising. We have a modified experience for viewers using ad blockers

Wikia is not accessible if you've made further modifications. Remove the custom ad blocker rule(s) and the page will load as expected.