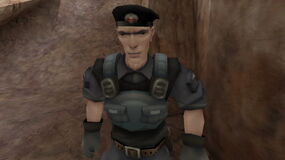 Private Coal is a unit in the Special Forces, appearing in TimeSplitters 2.
Appearances
Edit
Private Coal

Unlock
Challenge > Banana Chomp > Gone Bananas with Silver
Gallery
Private Coal is a promising recruit to the Special Forces Unit. He has a crush on Lt. Shade but hasn't yet dared to ask her out.
Accuracy
Agility
Stamina
13/20
12/20
12/20
Private Coal makes a sole appearance in TimeSplitters 2. Within the game, he only makes appearances in single Arcade League and Challenge matches.
He shares his voice with Cpt Night, Sgt Shock and TS2 Henchman. They're also re-used by Elite Henchman.

Oleg re-uses only some of the voice clips, the rest are his own.