Appearances
Edit
Unlock
Challenge > Miscellaneous Challenges > TSUG: TimeSplitters Underground with Bronze or better
Gallery
Oleg only joined Khallos's organisation because of the excellent safety record. Now he wished he'd stayed at the steel-mill across the road.
Gesture
Flexes arms and says "I said no ketchup!"
Speed
Stamina
Shock Proof
Fire Proof
5/8
5/8
5/8
5/8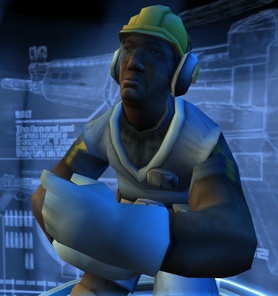 Oleg is one of the mechanics that works for Khallos and Crow's The Brotherhood of Ultra Science in Khallos's secret base.
Ad blocker interference detected!
Wikia is a free-to-use site that makes money from advertising. We have a modified experience for viewers using ad blockers

Wikia is not accessible if you've made further modifications. Remove the custom ad blocker rule(s) and the page will load as expected.