This page is one of several undergoing a re-format, it is suggested you do not edit the page unless you are re-formatting it, otherwise you will have to wait until the project is over.
| | | | |
| --- | --- | --- | --- |
| TS1 Gesture | N/A | TSFP Gesture | Stands with hands and feet pointing out, jumps and says "Oooh, uh-heh. Got any injuries? No? Want some? |
| TS2 Gallery | N/A | TSFP Gallery | An excellent first aider her bandages are always tight and restrictive. |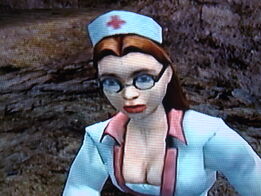 Nurse Tourniquet is a nurse character in TimeSplitters Future Perfect as a starting character. Despite her lack of appearance in Story, she still merits her own Zombie alteration character, known only as Nurse Sputum. She seems to have a disorder, as her arms and legs are held in odd directions.
Ad blocker interference detected!
Wikia is a free-to-use site that makes money from advertising. We have a modified experience for viewers using ad blockers

Wikia is not accessible if you've made further modifications. Remove the custom ad blocker rule(s) and the page will load as expected.