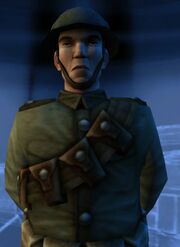 Nobby Peters is one of the World War I soldiers in 1924 Urnsay. He wears the standard WWI British Army uniform and is also equipped with a strapped Brodie helmet.
Appearances
Edit
Peters appears as a generic soldier in
TimeSplitters Future Perfect
. He appears as a member of the
Vietnam
bot set
and in the
Rumble In The Jungle
match set in the same location. He also appears in the
Zeppelin
bot set.
Peters was among the men who bombed the island of Urnsay in 1924.