This page is one of several undergoing a re-format, it is suggested you do not edit the page unless you are re-formatting it, otherwise you will have to wait until the project is over.
| | | | |
| --- | --- | --- | --- |
| TS1 Gesture | N/A | TSFP Gesture | Flexes while saying "My friends call me spoony legs" |
| TS2 Gallery | N/A | TSFP Gallery | Normally just an ordinary sock, when things get rough he turns into... Mr. Socky, the Psychotic Sock-Monster! |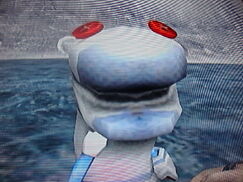 Mister Socky appears in TimeSplitters Future Perfect as an unlockable character. The character appears as a giant sock with two fingers for legs, despite what you would expect with a puppet where the hand is going in to the puppet, not out. The hands of the Mister Socky are sock puppets as well.