Appearances
Edit
Mr. Socky

Unlock
Arcade League > Elite League > Retro Chique > Sock It To Them with Bronze or better
Gallery
Normally just an ordinary sock, when things get rough he turns into... Mr. Socky, the Psychotic Sock-Monster!
Gesture
Flexes while saying "My friends call me spoony legs"
Speed
Stamina
Shock Proof
Fire Proof
5/8
5/8
8/8
2/8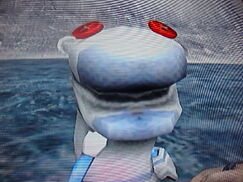 Mister Socky appears in TimeSplitters Future Perfect as an unlockable character. The character appears as a giant sock with two fingers for legs, despite what you would expect with a puppet where the hand is going in to the puppet, not out. He also has red button eyes. The hands of Mister Socky are sock puppets as well.
Ad blocker interference detected!
Wikia is a free-to-use site that makes money from advertising. We have a modified experience for viewers using ad blockers

Wikia is not accessible if you've made further modifications. Remove the custom ad blocker rule(s) and the page will load as expected.