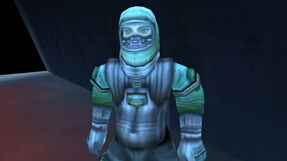 Male Trooper appears to be part of an elite unit in the Human Forces. Their only presence in the Story mode is the game's opening cutscene, in which a soldier's corpse wielding a Sci-Fi Handgun is shown being thrown by a Reaper Splitter. It is also possible that Sergeant Cortez and Corporal Hart are members of the Space Troopers. In the Space Station Story level, you have to pick up the Environment Suit they wear in order to survive in space.
Appearances
Edit
The Male Trooper makes his sole appearance in TimeSplitters 2. Aside from a brief appearance as a corpse in the Story mode's opening cutscene, he also shows up in an Arcade League match and a couple of Bot Sets.
Ad blocker interference detected!
Wikia is a free-to-use site that makes money from advertising. We have a modified experience for viewers using ad blockers

Wikia is not accessible if you've made further modifications. Remove the custom ad blocker rule(s) and the page will load as expected.