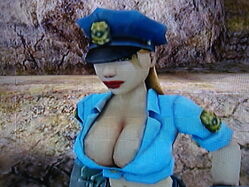 Lieutenant Christine Malone (aka Lt Malone) appeared in the original TimeSplitters game, and TimeSplitters Future Perfect. She is a cop from the 1970s, under the same service as Harry Tipper.
Appearances
Edit
Lt. Christine Malone
Lt Malone

Unlock
Default
Gesture
Police sirens are heard, she looks and crouches around then runs off screen.
Lt. Christine Malone features in the first game as one of the Story protagonists. In the first game she has dark blue trousers over black shoes and a light blue police top. She also has fairly long yellow hair, as well as a belt and holster. Not much else is known about her.
Lt. Christine Malone

Unlock
Default
Gallery
Lt. Malone's impeccable arrest record is enough to make her chest swell with pride.
Gesture
Squats downs saying "Now you see me" whilst turning away then thrusting towards the screen saying "Un, deux, trois" then returns to dancing and clapping saying "Let's get down to it in the squad car!"
Speed
Stamina
Shock Proof
Fire Proof
5/8
5/8
5/8
5/8
Christine Malone reappears in TimeSplitters Future Perfect wearing new attire. She maintains her dark blue trousers and light blue top, now with bigger and more exposed breasts, and a new police hat; this is a considerable change between games.
She does not appear in the story mode, although has a part in the Arcade League mode, where she and Kitten Celeste (both Harry Tipper's sidekicks) have a one on one shoot out in the Big Tipper. She is described here as "Harry's old police partner" despite the two of them seen working together in the 1970s, whilst the versions of Harry and Kitten in Timesplitters Future Perfect are from the 60s. It is possible either that this sequence takes place in the 70s (or later), that Tipper and Malone worked together before the 60s and then where reunited in the 70s, or that this segment is simply not canon. Her voice is shared with Ilsa Nadir.
Christine Malone's mission was to raid a Chinese Restaurant, alongside Detective Harry Tipper, that is a front for a criminal ring that included Mr. Big. They gathered the gang's files and escaped.
She could be based on Chassey Blue, The Female Cop/FBI Agent from the Vigilante 8 Series, as she too was in the 70's.
In TSFP, she shares her gesture with Arial DaVinci and Venus Starr, albeit with different dialogue.
She is one of the only characters to appear the first and third games, but not the second one. The other character being Teeth Mummy.
Ad blocker interference detected!
Wikia is a free-to-use site that makes money from advertising. We have a modified experience for viewers using ad blockers

Wikia is not accessible if you've made further modifications. Remove the custom ad blocker rule(s) and the page will load as expected.