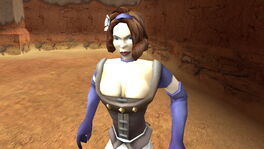 Lean Molly is a character from Little Prospect. Her first appearance is in TimeSplitters 2, though it is also her last. She is the slimmer, but less busty sister of Ample Sally.
Appearances
Edit
Lean Molly is a character in TimeSplitters 2. She is from Little Prospect, although she doesn't appear in the Wild West mission. She features in the Adios Amigos Arcade League match and the Mexican Mission bot set. Beyond that, she is just a selectable Arcade bot.
Lean Molly and Ample Sally tagged along with the Colonel's gang. After Elijah Jones decimated the group, it is unknown what happened to Molly or Sally.
Ad blocker interference detected!
Wikia is a free-to-use site that makes money from advertising. We have a modified experience for viewers using ad blockers

Wikia is not accessible if you've made further modifications. Remove the custom ad blocker rule(s) and the page will load as expected.