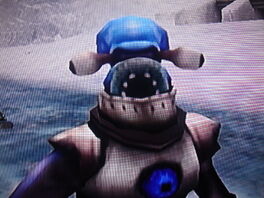 The Koozer Mox are one of the species of Mox that inhabit Planet X in the late 23rd century. During the Mox Civil War, other Mox races battled each other to death. After this, the Koozer Mox race who has been waiting for the Mox races to wipe out each other, took the planet for their own. They are a blue coloured Mox and share the exact same characteristics as other Mox.
Appearances
Edit
Koozer Mox

Unlock
Arcade League > Honorary League > Deadweight > A Pox of Mox with Bronze or better
Gallery
After the Meezor Mox and Ozor Mox battled each other to extinction, the Koozor Mox (who were, to be fair, playing a waiting game) took over.
Gesture
Stomps forward and stays "Just show me where to shoot."
Speed
Stamina
Shock Proof
Fire Proof
5/8
5/8
5/8
5/8
The Koozer Mox are the only Mox race appearing in TimeSplitters Future Perfect, further implying they are the ruling Mox race. They appear in a Arcade League match set at the Spaceport and appear in the Spaceport bot set, they however have no further appearance within the game.
After having watched over the events of the Mox Civil War, the Meezor and Ozor races finally fell. After all the involved had died, the Koozer race took control of the entirety of Planet X.