Appearances
Edit
Unlock
Default
Gallery
It's not easy keeping discipline on a small island.
Gesture
Steps forward saying "Okay, lets go" then turns to his right.
Speed
Stamina
Shock Proof
Fire Proof
5/8
5/8
5/8
5/8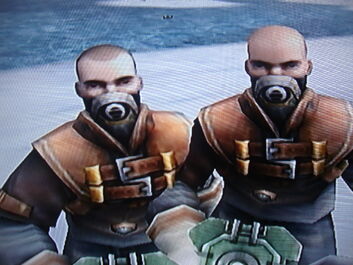 Ivor Baddic is a soldier working for Jacob Crow in 1924 on the island of Urnsay during the mission Scotland the Brave. All the Soldiers appear to speak with Russian or Eastern European accents. This could be because they were seconded to Crows private army from Khallos's troops (at the time, Khallos was in Russia, so it would make sense that the Henchmen he hired would be Russian).
His name is a play on words, sounding like I've a bad itch.
There are in fact two different versions of Ivor's model; one has short brown hair and the more common one has a shaved head.
As Captain Ash notes when first seeing them, all of Crow's soldiers on Urnsay are wearing quite strange uniforms, the most important part of which seems to be the unusual - looking U - shaped armour vest. Crow's soldiers also wear respirators at all times, perhaps to protect themselves from possible gas attacks, which were common during that era.
Any other troopers from Urnsay used in mapmaker will automatically assume his alternate model in both Story and Arcade. This model will have no name or icon, and if any of the 'functional' troopers are placed in a custom bot set they will be converted to this bot after playing then exiting the map. However, if the Urnsay troopers are placed in the map's custom bot set via the MapMaker settings menu, they can be used in Arcade by selecting the Recommended bot set.