Ad blocker interference detected!
Wikia is a free-to-use site that makes money from advertising. We have a modified experience for viewers using ad blockers

Wikia is not accessible if you've made further modifications. Remove the custom ad blocker rule(s) and the page will load as expected.
Appearances
Edit
File:TSFP INSETICK SK/10 Small.gif

Unlock
Complete all Elite League matches with Golds or better
Gallery
Identical to the INSETICK SD/12 model in all respects

save the custom black paint job. Cheekily this was classed as an option in the catalog and the manufacturers charged a hefty premium.

Gesture
Unfolds and says "Energized."
Speed
Stamina
Shock Proof
Fire Proof
6/8
4/8
5/8
8/8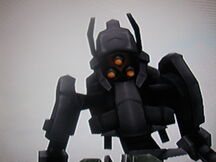 INSETICK SK/10 is visually similar to INSETICK SD/12 save the color changes. However, his state of shockproof is that of a typical character, not the low level of a usual UltraNet robot, and his speed is high while his stamina is low. When he is selected, his voice curves upwards in pitch as the phrase progresses rather than downwards like the other UltraNet battle robots.
He is arguably one of the hardest characters to unlock in TS:FP, as you just do the daunting task of completing the entirety of the Elite League with exclusively Golds (or Platinums).