| | |
| --- | --- |
| | The original author of Health Pack does not have any further information on this article. Anyone is welcome to expand further on this article. More details can be found, and this request can be discussed, on the associated talk page . |
The Health Pack is used to heal your character. Certain packs will heal your health bar by 50%, while others will heal it fully. The Health Pack is located on the ground in single player matches along with multiplayer matches. It is most noticeable by its red color and cubic form. This item can be placed into custom Mapmaker levels with little limitations on the location.
In TS1 the health pack appears as a square/octagonal panel with a white cross on a red background, depending on the particular type placed, packs can heal in 25% or 100% amounts.
In TS 2 and TS FP packs are small white boxes with a red banner over the top, which has a small white cross on it. Similarly, these kits can heal the player in various amounts. There is only one health pack in the story of TS 2; it can be collected by touching the back of the floor turret found in the Robot Factory.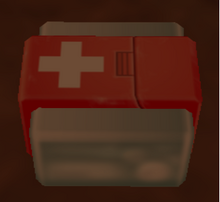 The obvious tell-tale sign that a Health Pack has just been picked up is the small, high-pitched recognizable sound it makes.
Ad blocker interference detected!
Wikia is a free-to-use site that makes money from advertising. We have a modified experience for viewers using ad blockers

Wikia is not accessible if you've made further modifications. Remove the custom ad blocker rule(s) and the page will load as expected.