V
Green Zombie is a generic zombie, who contrary to his name doesn't look green. Brown Zombie shares his characteristics and appearance, except he is mirrored. The left side of his face shows visible skull, whereas the right side still has burgundy coloured flesh on the right side and a clear white eye. The rest of his body is skeletal, the majority covered with flesh.
Appearances
Edit
| | |
| --- | --- |
| | Green Zombie |
| Unlock | Challenge > 1-B Putrid Punchout |
| Gesture | Looks side to side as if he thinks the player has picked someone beside him then gestures to himself as if saying "Me?", then readies himself. |
The Green Zombie appears in two Story missions in the course of the original TimeSplitters as well as many Challenges where he is usually accompanied by other Zombies.
Main article: Tomb (Story)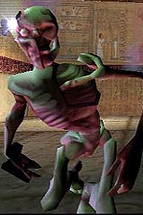 Green Zombies appear as generic enemies throughout the Tomb mission. They remain as seemingly dead corpses sitting on the ground until a player moves close to them, triggering them to stand up and walk towards the player in a stereotypical Zombie-like way. They can only be defeated once their head is removed, otherwise every time they are blown to the floor they will get back up.
Main article: Village (Story)
The Green Zombie appears briefly in the village as well; it carries no weapons and appears only two or three times depending on the escape route you use.
Main article: Mansion (Story)
The Green Zombie appears as a type of zombie haunting the Gallows Hill Mansion. They appear commonly throughout the level; some appear awaiting for the player to move near while others are seen spawning in. They can only be defeated once their head is removed and they share all the zombie walking traits; if they are blown to the ground by a Shotgun, they will raise up and continue to follow the players throughout the level.
Ad blocker interference detected!
Wikia is a free-to-use site that makes money from advertising. We have a modified experience for viewers using ad blockers

Wikia is not accessible if you've made further modifications. Remove the custom ad blocker rule(s) and the page will load as expected.