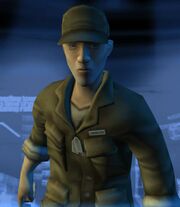 Goddard is one of the Vietnam-themed soldiers appearing only in TimeSplitters Future Perfect. It is suggested that unlike Samuel Renzo and Schmidt, he looks like any regular soldier of the time. He wears a brown-green costume, and a cap of the same colour, along with boots.
Appearances
Edit
Goddard

Unlock
Challenge > Cut-out Shoot-out > Come Hell Or High Water with Bronze
Gallery
Goddard always feels slightly put out that Renzo and Schmidt both have a bit more character than him.
Gesture
Jumps from above, landing in front of a cutout of Sergeant Cortez and throws it while saying "Hey! You got the real deal right here, baby!
Speed
Stamina
Shock Proof
Fire Proof
5/8
5/8
5/8
5/8
Goddard appears in
TimeSplitters Future Perfect
set around the
Vietnam
map. He appears in the three challenge and arcade league matches set there as an enemy in each:
Toy Soldiers
,
Rumble In The Jungle
, and
Sammy Hammy Namby Pamby
. He also appears in the Vietnam
bot set
but he appears nowhere else other than the Arcade portion of the game.