Appearances
Edit
Gilbert Gastric

Unlock
Challenge > Cat Driving > The Cat's Pajamas with Bronze or better
Gallery
eat brains...eat brains...eat brains...
Gesture
Gets up off the floor while groaning and then says "Brains!"
Speed
Stamina
Shock Proof
Fire Proof
2/8
8/8
8/8
2/8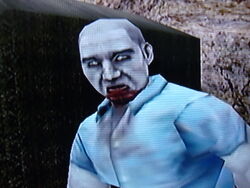 Gilbert Gastric is a bald zombie character unlocked in TimeSplitters Future Perfect, who mainly features in the Mansion Of Madness and What Lies Below levels. He wears a pale blue v-neck shirt.
Despite his biography, zombies will eat any flesh, not just the brain.
His gallery entry is similar to the gallery entry of Shoal. His gallery entry is "Eat krill... eat krill... eat krill..."
Ad blocker interference detected!
Wikia is a free-to-use site that makes money from advertising. We have a modified experience for viewers using ad blockers

Wikia is not accessible if you've made further modifications. Remove the custom ad blocker rule(s) and the page will load as expected.