This page is one of several undergoing a re-format, it is suggested you do not edit the page unless you are re-formatting it, otherwise you will have to wait until the project is over.
TS1 Gesture
N/A
TSFP Gesture
Stomps forward and says "Urgh! Time to kick some ass!"
TS2 Gallery
N/A
TSFP Gallery
A complicated young chap whose interests include transcendental analysis and driving his enemies before him. He has never lost a coffee house debate on account of his fondness for placing his opponents' heads on

spikes.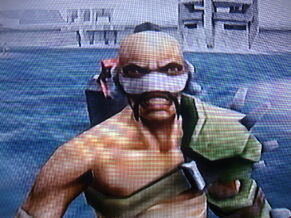 Ghengis Kant is one of the human rebels fighting in the Machine Wars. He has a robotic left arm, and robotic legs.
His name is a play on Genghis Khan, the founder of the Mongol Empire, and a German philosopher, Immanuel Kant.
He reuses voice clips from the TS2 version of Khallos.
Ghengis Kant is killed in machine wars.
Ad blocker interference detected!
Wikia is a free-to-use site that makes money from advertising. We have a modified experience for viewers using ad blockers

Wikia is not accessible if you've made further modifications. Remove the custom ad blocker rule(s) and the page will load as expected.