Fergal Stack

Unlock
Complete all Amateur League matches with Silver or better
Gallery
Fergal is oft to be found in the warehouse quietly amusing himself by stacking boxes whilst wearing a silly hat.
Gesture
Flexes arms and grunts.
Speed
Stamina
Shock Proof
Fire Proof
5/8
5/8
5/8
5/8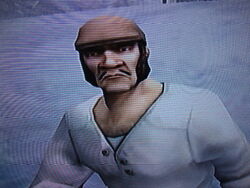 Fergal Stack is an unlockable machinist in TimeSplitters Future Perfect. He is seen in the levels You Take The High Road and Future Perfect.
Ad blocker interference detected!
Wikia is a free-to-use site that makes money from advertising. We have a modified experience for viewers using ad blockers

Wikia is not accessible if you've made further modifications. Remove the custom ad blocker rule(s) and the page will load as expected.