This page is one of several undergoing a re-format, it is suggested you do not edit the page unless you are re-formatting it, otherwise you will have to wait until the project is over.
| | | | |
| --- | --- | --- | --- |
| TS1 Gesture | N/A | TSFP Gesture | Wiped visor and says "Hope I don't have an accident in here." *Sneeze* "Oh, no." |
| TS2 Gallery | N/A | TSFP Gallery | He's already sweated off 5 lbs running around in that suit this afternoon. The liquid has collected in his boots and his chiropodist is going to have to deal with some nasty chaffing. |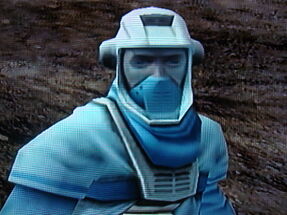 The Envirosuits are men in environmental suits, hence their title. Though they seem to wear the same suits as the Male Trooper and Female Trooper from TimeSplitters 2, there is no resemblance between the two characters.
Ad blocker interference detected!
Wikia is a free-to-use site that makes money from advertising. We have a modified experience for viewers using ad blockers

Wikia is not accessible if you've made further modifications. Remove the custom ad blocker rule(s) and the page will load as expected.