Appearances
Edit
Deadwina

Unlock
Arcade League > Honorary League > Mode Madness > I Like Dead People with Bronze or better
Gallery
Go on pick her. She needs the excorsize.
Gesture
She shouts "Bleh" and jumps, levitates then says "Do you see what your cunning daughter has done?.......my mother sucks lollipops in hell"
Speed
Stamina
Shock Proof
Fire Proof
8/8
2/8
5/8
5/8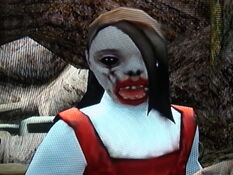 Deadwina is an Undead girl who can be unlocked for arcade mode in TimeSplitters Future Perfect. Her human form is Edwina. Her gesture is a reference to the movie "The Exorcist".
In Story Mode for Mapmaker, if Deadwina is chosen as an enemy AI to appear, she will actually appear as a human Edwina, rather than a zombie Deadwina. This could have been a mistake or an oversight on the creator's part.
Her gesture is shared with Edwina, as well as The Changeling.
Deadwina uses voice clips of her former self, but they are distorted.