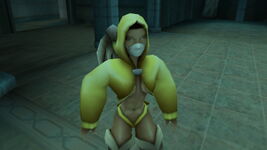 Cyberfairy is the main character of Cold Corpse Caper. Apart from being addicted to technology, she also hates the undead. She strongly resembles Arial DaVinci, in that both have little clothing on, both have their mouths covered (with Cyberfairy wearing what appears to be a surgical mask, possibly to fend off the stink of the Undead), and both have wings on their backs. Arial DaVinci is most likely a different interpretation of the Cyberfairy.
Appearances
Edit
Cyberfairy

Unlock
Arcade League > Maximus > Cold Corpse Caper with Silver
Gallery
A space-age pixie, the Cyberfairy flits across time zones drawn to machine technology like a moth to a flame.
Accuracy
Agility
Stamina
12/20
20/20
4/20
Cyberfairy's native timezone may be 2315, as her thumbnail theme is greenish-brown, which is the theme of Robot Factory.
Ad blocker interference detected!
Wikia is a free-to-use site that makes money from advertising. We have a modified experience for viewers using ad blockers

Wikia is not accessible if you've made further modifications. Remove the custom ad blocker rule(s) and the page will load as expected.