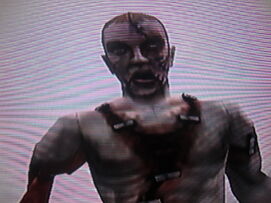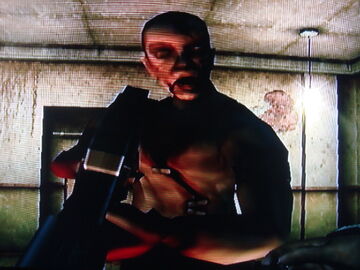 Clip Clamp is a Zombie character in TimeSplitters Future Perfect. His body seems to be sown together from the body parts and rotting flesh from leftover experiments.
Appearances
Edit
Clip Clamp

Unlock
Default
Gallery
Autopsy, schmaw-topsy.
Gesture
Falls down while saying, "Do I have red on me?"
Speed
Stamina
Shock Proof
Fire Proof
5/8
5/8
8/8
2/8
Clip Clamp's sole appearance is in TimeSplitters Future Perfect, in which he appears sparingly as an enemy in the Story mode level What Lies Below. Aside from this, he makes appearances in Arcade League, Challenge mode and a bot set.
His voice clip on the character select screen is a reference to the movie Shaun Of The Dead.
He shares sounds with Mr. Underwood, however, in his case, the sounds are slowed down and sound deeper. He shares these clips with Gilbert Gastric.
Ad blocker interference detected!
Wikia is a free-to-use site that makes money from advertising. We have a modified experience for viewers using ad blockers

Wikia is not accessible if you've made further modifications. Remove the custom ad blocker rule(s) and the page will load as expected.