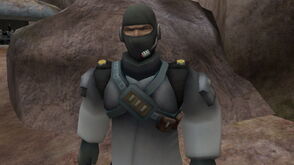 Captain Night is one of the many Military soldiers from TimeSplitters 2. He is the leader of the Special Forces, and seems to have a habit of arbitrarily deploying his troops, doing so in the Story level Siberia, two Arcade League matches, one Arcade Custom bot set, and one Challenge.
Appearances
Edit
Captain Night makes his sole appearance in TimeSplitters 2, acting as a generic military figure who appears in both the Arcade League and Challenge mode. Although he does not appear in Story mode, it can be assumed that he deployed the Special Forces soldiers encountered at the end of the level.
He shares his voice with Coal, Shock and TS2 Henchman. They're also re-used by Elite Henchman.

Oleg re-uses only some of the voice clips, whilst the rest are his own.
Ad blocker interference detected!
Wikia is a free-to-use site that makes money from advertising. We have a modified experience for viewers using ad blockers

Wikia is not accessible if you've made further modifications. Remove the custom ad blocker rule(s) and the page will load as expected.