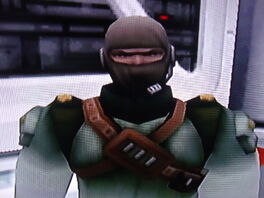 Captain Forest is one of the many generic Military characters, which feature in TimeSplitters 2. He is the chief of the Regular Force, and wears woodland camouflage gear.
Appearances
Edit
Capt Forest

Unlock
Unlocked by Default
Gallery
Capt. Forest is the well-respected chief of the Regular Force.
Accuracy
Agility
Stamina
18/20
12/20
12/20
Captain Forest makes his sole appearance in TimeSplitters 2, and has no role in any capacity aside from being a selectable bot for Arcade Custom.
Ad blocker interference detected!
Wikia is a free-to-use site that makes money from advertising. We have a modified experience for viewers using ad blockers

Wikia is not accessible if you've made further modifications. Remove the custom ad blocker rule(s) and the page will load as expected.