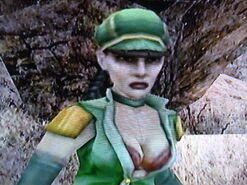 Booty Guard is a character in TimeSplitters Future Perfect. She works under Khallos, and appears in the level The Russian Connection.
Appearances
Edit
Booty Guard

Unlock
Arcade League > Elite League > Retro Chique > Zany Zeppelin with Bronze or better
Gallery
That wry old devil Khallos has an elite corps of extremely personal bodyguards who attend to his special needs and maniacal whims. Only women can apply--how's that for positive discrimination and enlightened recruitment policies.
Gesture
Holds a revolver and does a pirouette throwing the gun into the air, catching it and then points it at the screen and says "I'm used to handling big weapons. In fact, I get paid for it."
Speed
Stamina
Shock Proof
Fire Proof
5/8
5/8
5/8
5/8
Booty guard has pigtails with a hat atop the rest of her hair. She wears a green button-up top that is split to reveal a red bra and some cleavage. She also wears full length gloves, boots, and some red hot pants.
Main article: The Russian Connection
Booty Guard appears as at the very end of the level after Cortez destroys the second blast door, assisted by various Elite Hench men and women.
Booty Guard's name is a play on words of bodyguard.
Ad blocker interference detected!
Wikia is a free-to-use site that makes money from advertising. We have a modified experience for viewers using ad blockers

Wikia is not accessible if you've made further modifications. Remove the custom ad blocker rule(s) and the page will load as expected.