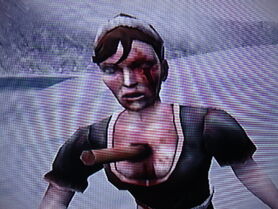 Blanche Deadwood is a Zombie maid character with a stake through her heart who appears in TimeSplitters Future Perfect.
Appearances
Edit
Blanche Deadwood

Unlock
Default
Gallery
Proof that French polishing can give you a nasty splinter if you rub too vigorously.
Gesture
Falls over saying "Brains."
Speed
Stamina
Shock Proof
Fire Proof
2/8
8/8
8/8
2/8
She and Nurse Gulag share sound clips. Blanche's, however, are edited and distorted.
She has the exact same stats as Arthur Aching.
Ad blocker interference detected!
Wikia is a free-to-use site that makes money from advertising. We have a modified experience for viewers using ad blockers

Wikia is not accessible if you've made further modifications. Remove the custom ad blocker rule(s) and the page will load as expected.