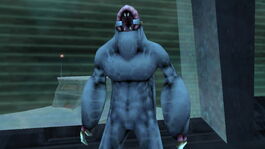 Baby Drone Splitter are younger versions of the Drone Splitters that appears in TimeSplitters 2 with a black color instead of gray like the Drone Splitter. They look amphibious in nature and have implants on their spines. They appear as enemies in the Space Station level at the end of TimeSplitters 2. It is not actually a TimeSplitter, as revealed in the Drone Splitter's gallery entry.
Appearances
Edit
It reuses the TimeSplitter 1 and TimeSplitter 2's voice clips, modified to be higher pitched. This is strange considering they are not actually TimeSplitters.
Ad blocker interference detected!
Wikia is a free-to-use site that makes money from advertising. We have a modified experience for viewers using ad blockers

Wikia is not accessible if you've made further modifications. Remove the custom ad blocker rule(s) and the page will load as expected.